What is Redi-Rock?
---
The Big Picture
Redi-Rock International is the leading large block retaining wall system with 130 manufacturers across North America and Europe. Massive, one-ton Redi-Rock blocks allow tall gravity walls to be built without geogrid or tiebacks in many applications, and even taller reinforced walls are possible with the incredibly efficient Positive Connection System.
Redi-Rock retaining walls capture the "Essence of Natural Rock" with quarried stone textures in Ledgestone, Cobblestone, or Limestone. For more information, visit www.redi-rock.com.
Why do we exist?
---
In the construction industry, we stand at the intersection of form and function. We challenge the way things have been done, and we create the new.
How do we do it?
---
We dare to question, we embrace conflict as the pathway to creativity, and we strive for technical excellence.
What do we do?
---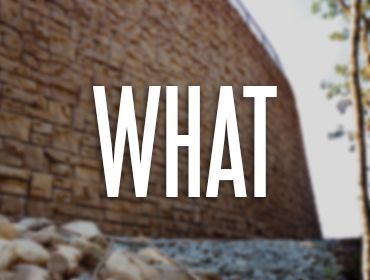 We do this by solving retaining wall problems, by making our products easy to use, and by giving our products fine, artisan textures that look fantastic.
Quality Forming System
Creating quality blocks starts with dedication to the quality of the forming system. The Redi-Rock forming system consists of durable, low-maintenance steel forms fitted with rubber molds that make concrete look like natural stone. These forms are so durable that many manufacturers have been using the same forms to produce Redi-Rock blocks for over a decade.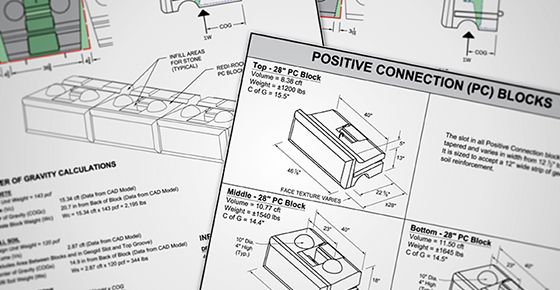 Advanced Engineering
The Redi-Rock System has always been two steps ahead of the industry. As pioneers of the large block retaining wall solution, Redi-Rock solves problems for engineers, municipalities, general contractors, developers, homeowners, and more. The Redi-Rock Gravity system harnesses the power of gravity to build tall walls that require no reinforcement in many applications, saving time and money and minimizing excavation. The Redi-Rock Positive Connection System for reinforced walls provides an incredibly efficient, corrosion-free solution that engineers are truly excited about. Learn more about the many engineering advantages Redi-Rock offers at www.redi-rock.com.
Superior Aesthetics
Natural stone aesthetics are in demand, and Redi-Rock can be produced in three industry-leading textures: Limestone, Cobblestone, and Ledgestone. These blocks are cast in molds taken from real stone, giving them a depth of texture up to 5 in. deep. To accent the natural texture, Redi-Rock blocks are often colored to match local landscapes using several methods, including integral color, surface shake on color hardeners, or post-applied stains. Translucent sealers and anti-graffiti sealers are also available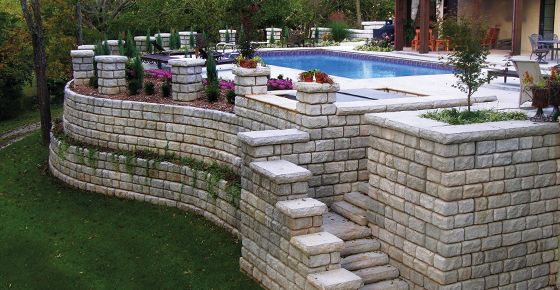 Complete Product Line
Redi-Rock has a complete line of wall product and accessories available, allowing your company to become a one-stop solution for:
Tall Gravity Retaining walls
Efficient Reinforced Retaining walls
Freestanding Walls
Columns
Steps and Caps
The shape of each Redi-Rock block allows designs to include inside and outside curves as well as inside and outside corners without cutting blocks. The Redi-Rock system is easy to install, and rarely requires field fabricating blocks or pouring special concrete elements to provide the proper transition or termination of the wall system.
Loyal Customers
Many Reid-Rock manufacturers have found that once a customer sees how easy the system is to design, build, and enjoy--they use it again and again! Redi-Rock also has a long list of National Accounts.
Extensive Network of Manufacturers
With over 130 Redi-Rock manufacturers across 7 countries, it is the largest network of Large Block Retaining wall producers in the industry. The Redi-Rock producers sell twice as many blocks as all the other large block producers combined! And, as a Redi-Rock manufacturer, you will have an opportunity to network with these other successful companies in meeting throughout the year, as well as through the manufacturer-only discussion group on LinkedIn.