About Redi-Rock
---
While Redi-Rock launched into the precast modular block industry in 2000, the history and story of the business is steeped in an entrepreneurial family spirit.
A Family Company
When you're looking to grow your business, it's nice to work with real people and not a faceless company. Redi-Rock is a family-owned and operated business that values hard work and the entrepreneurial spirit. If you're a concrete manufacturer looking to grow your business - come join our family!
An Entrepreneurial Drive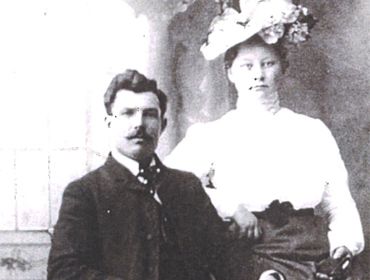 The first entrepreneur in our family was grandma Constance, who launched an aster flower business that set us on a course of entrepreneurialism. Today, we're passionate about helping others grow their businesses through proven, licensable business opportunities built on the Aster Brands foundation.
A Legacy of Innovation
A constant drive to innovate and improve is a core principal that drives the Redi-Rock business model. We're constantly looking for a better way to do things - with people, process, and products. Innovation drives Redi-Rock forward in the industry. Sound interesting? Let's talk about how Redi-Rock can help your business innovate!
The Redi-Rock Story
---
Like any good story, the Redi-Rock story has a few twists and turns. Our story is the story of a family business that has grown over the past 100+ years. We invite you to join in the story by becoming part of the Redi-Rock family. We're eager for sharp concrete manufacturers to join the fold!
The Early Days - Farming
Our family business roots go all the way back to the early 1900s, where our great grandma Constance started an aster flower growing and shipping business to help make ends meet. Her sons, Ted and Ernie, went on to farm strawberries. Faced with a need to manufacture wooden strawberry boxes, their accidental purchase of veneer equipment in the early 1940s led to the launch of Manthei Veneer.
1940 - Manthei Vaneer
Manthei Veneer manufacturers high-end face veneers used in the construction of plywood, furniture, and flooring. The business has seen several reinventions over the years - spurred by a fire in 1967 and another in 2017. Today, Manthei Veneer is owned and operated by the third generation of the Manthei family. Manthei Veneer is one of the few remaining family-owned and operated veneer mills in North America.
1968 - Manthei Construction
Manthei Construction, a heavy construction company in Northern Michigan, launched in 1968 after Ernie Manthei retired from Manthei Veneer and just couldn't sit still. His sons took over the business and grew it. Today, Manthei Construction specializes in underground sewer and water systems, custom aggregate processing, concrete products (including Redi-Rock, Rosetta Hardscapes, and Pole Base), site development, mass grading, road construction, ready-mix concrete, and asphalt paving.
1970 - Sky Valley Resorts
Drawn to the milder winters of Southern California, Ted & Ernie Manthei purchased land in the desert with hopes of developing geothermal energy there. Instead, the family saw an opportunity in the natural hot springs and in 1970, the Manthei Group opened Sky Valley Resorts, a group of RV and mobile home resorts. Sky Valley Resorts features pools fed from natural, therapeutic hot springs that draw visitors from across North America.
2000 - Redi-Rock International
When a local development needed retaining walls, Jim Manthei had an idea for a new way to do retaining walls. Instead of small, drycast retaining wall blocks set by hand, he envisioned a large, wetcast system that would interlock like giant Lego blocks and install with heavy machinery. Realizing this product had potential, Redi-Rock began setting up licensees throughout North America. Today, 130+ manufacturers produce Redi-Rock across the world. Redi-Rock is one of the proven, licensable business opportunities that are part of the Aster Brands family.
2007 - Rosetta Hardscapes
While Redi-Rock is a great fit for developments and large infrastructure projects, the smaller scale of Rosetta Hardscapes makes it a great fit for landscape projects. Rosetta Hardscapes is part of the Aster Brands family of proven, licensable business opportunities for concrete manufacturers. Rosetta Hardscapes products give landscape projects the look of natural stone, but install in half the time compared to natural stone. Rosetta is manufactured using a fully-automated wetcast line. Today, 17+ manufacturers produce Rosetta throughout North America, Europe, and Asia.
2013 - Pole Base
Pole Base is a precast light pole base foundation that is high quality and high margin. These bases can be used for many applications including, streetscapes, parking lots, taxiways, flag pole foundations, and sign foundations. Pole Base is the most recent concrete manufacturing business opportunity available from Aster Brands. Today, 20+ manufacturers are producing Pole Base throughout North America and the network is growing steadily!
2013 - Techniply
In 2013, The Manthei Group acquired Techniply, a hardwood processing company that produces high quality rotary and flat dieboards, as well as custom specialty plywood products. Due to its ties with Manthei Veneer, Techniply now controls its entire supply chain, from stump to dieboard, resulting in consistently high quality products. Techniply is owned by the third generation of the Manthei family.
Into the Future
---
We are humbled by the legacy our parents, grandparents, and great grandparents have left for us - both in family and in business. We're grateful to be able to continue in their footsteps and grow on the foundation they've built.
At Redi-Rock, we're eager to partner with sharp concrete manufacturers looking to grow their businesses. Our story isn't really about our family, after all. It's about partnering with great manufacturers like you to provide solutions to real problems in your market. Come join the family of Redi-Rock manufacturers, and let's change the industry together!