Redi-Rock Producer Case Studies
---
Here, we'll dig into the on-the-ground experiences of some successful Redi-Rock manufacturers. These companies' stories will give you insights into why RediRock works as a business opportunity.
Tim Turton • Redi-Rock Structures of OKI
Cincinnati, Ohio · Construction · Partnered with Redi-Rock in 2003
Measurable Results
In the past decade, Redi-Rock Structures of OKI has only had one bad year. To only have one losing year for a startup company that weathered the great recession.... that says a lot. "We have experienced continued growth," Tim shared. "The necessity of diligence and staying after the charge has sustained us."
How Tim Got Started with Redi-Rock
As a site development contractor in the early 2000's, about 85% of Tim's projects included retaining walls. All of these walls were small, dry cast retaining walls. One day, a customer of Tim's had a property line issue and found Redi-Rock online. Tim actually bought Redi-Rock from a distant Redi-Rock manufacturer for the project, and saw that this could be a huge opportunity to dovetail with his contracting business.
Six months later, Tim made the trip to Redi-Rock headquarters and became a Redi-Rock producer several weeks later.
About the Company
Redi-Rock Structures of OKI introduced the first large block retaining walls in the Ohio, Kentucky, and Indiana region in 2003. The company is known for providing the best retaining wall solutions in the area and is committed to nurturing the loyal relationships they have forged with retaining wall clients in Cincinnati and beyond.
They strive to continually earn the ongoing trust of each person they do business with. A strong commitment to the Redi-Rock Quality Assurance and Quality Control program ensures that the retaining wall blocks and retaining wall systems purchased in the Cincinnati area are in line with the highest standards of excellence.
This is a 19.5 ft. tall GRAVITY wall in the Ledgestone texture manufactured by Redi-Rock Structures of OKI. This retaining wall allowed a new access road to be built for the regional FBI headquarters in Cincinnati. See more of Tim's projects at: https://www.redi-rockstructures.com/
Scott Stevens • Stevens Group/Duracast
Halifax, Nova Scotia, Canada · Ready Mixed Concrete · Partnered with Redi-Rock in 2003
Measurable Results
Stevens Group doubled every year for years until reaching maturity. Adding Redi-Rock as a product launched Stevens Group into the precast industry. Stevens Group is primarily in the aggregate business and Quality Concrete is the ready mixed concrete arm. As those in the industry know, it's possible to stockpile aggregate, but it's not possible to stockpile ready mix.
Unless you think like Scott did–and realize that the only way to stockpile ready mix is to create precast products. Redi-Rock evened out the revenue structure of the Stevens Group's aggregate and ready mix business, making it more consistent, efficient, and profitable.
How Scott Got Started with Redi-Rock
Scott's business partner and brother, Thane Stevens, has a knack finding unique business opportunities and products. Thane is a serial entrepreneur, and first saw Redi-Rock advertised in the Concrete Producer Magazine. Thane then saw the Redi-Rock system at the World of Concrete trade show, which prompted a phone call to Redi-Rock International.
These events led to the brothers launching the Redi-Rock product line in the Halifax, Nova Scotia area in 2003. Once Redi-Rock was incorporated into the Stevens' brothers business, Scott built a team to realize Redi-Rock's potential in the local area by marketing to specifiers who drive specs and win jobs.
About the Company
The Stevens Group of Companies is a privately held third generation family business with its head office located in Dartmouth, Nova Scotia, Canada. Quality Concrete, the ready mix concrete branch of the Stevens Group, has been in business in Halifax since 1958. Starting from a small bag plant in Dartmouth, Quality has grown to 12 plants with a fleet of 110 mixer trucks complemented by 15 pump trucks.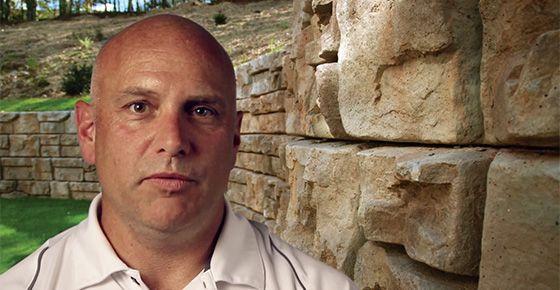 This is a beautiful Limestone texture Redi-Rock headwall that Quality Concrete produced for a new shopping center in Darmouth, Nova Scotia. You can see more of Quality Concrete's work at: https://stevensgroup.ca/
Vincent Lachaux • BBlox/Lacheux Betons
Saint-Pantaléon-de-Larche, France · Ready Mixed Concrete · Partnered With Redi-Rock in 2016
About the Company
In 1948, Lachaux Betons launched as a quarried stone and sand company in Saint-Pantaléon-de-Larche, France. After years of steady growth, third-generation business owner Vincent Lachaux took over in 2013.
Early in his leadership of the company, Lachaux recognized the need to diversify and saw an opportunity in producing concrete in-house. He called the concrete side of the business BBlox. Since starting with Redi-Rock in 2016, BBlox has partnered with many other concrete manufacturers in France to provide nationwide Redi-Rock solutions.
How BBlox Got Started with Redi-Rock
After forming BBlox, Lachaux's team tried developing its own retaining wall product. But it quickly proved difficult and expensive to produce. In search of a retaining wall system to build the business, Lachaux attended World of Concrete in Paris in 2015 and found Redi-Rock.
"I was looking for a new product that did not exist in France - a product to stand out from my competitors," Lachaux said.
How Redi-Rock Helped Grow the Business
"Redi-Rock was the right solution at the right time in the right place," explained Eric Zavras, Project Manager of BBlox. "The potential for the product is amazing in all of France."
BBlox has seen so much success with Redi-Rock since launching the product in 2016 that the company has expanded its production facility.
"Now we can produce 3,000 blocks per year, but we will grow to 4,000-5,000 blocks and beyond. We will start double casting soon to meet the demand," Zavras said.
In recognition of the rapid startup and tremendous growth of BBlox, the Mayors and Local Communities Fair recognized BBlox as a finalist for the Innovation Award in the Building / Public Works / Roads category in Paris in 2017.